Hey, crafty peeps!
There is a new
Sketch Challenge
just posted at the Outlawz!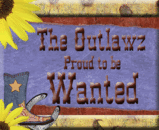 Our sponsor all month is the wonderful Encino Stamps! The January winner will receive 3 digis of their choice!
I love the sketch we have this week! Here it is!
All of the Design Team (Sandra, Pat, Cindy, and myself) used Carl the Chameleon from
Encino Stamps
for the focal image. I absolutely love this cute image. I could use it over and over. Here is my card, but you really need to go to the
challenge page
and see how the other DT gals were inspired to use the cute Carl Chameleon. It is so fun to see what others do with the same image!
My son had a chameleon when he lived at home. It was a pretty green most of the time and occasionally changed color to a dull yellowish brown --- a little bit unremarkable, so I decided to make my chameleon a fun one, using rainbow colors. I used Copic markers to make my rainbow colors. The blue buttons are actually punched from paper with my new button punch from EK Success. Here are my Copic colors for this little guy. B12 V15 RV55 YR16 Y17 G02
FYI, in case you ever wanted to know stuff about chameleons, here is a little bit of information I thought was interesting.
There are approx
imately 160 species of chameleons which are part of the lizard family and they are found in a range of colors, including pink, blue, red, orange, turquoise, yellow, and green.
Some species can change color and they are great climbers and hunters and are found in warm habitats and are often kept as household pets.
Typically, chameleons kept as pets are 3 to 20 inches in length and usually are hues of green, brown, grays and live less than five years.
Chameleons eyes move independently from each other. This gives them a full 360-degree range of vision around their bodies which helps them catch their prey. The chameleon has a long tongue and eats primarily insects.
Chameleons change color sometimes as a social function (attracting females) and sometimes as a reaction to temperature in an attempt to maintain their body temperature in heat or cold. they also change color to camouflage themselves from predators or to attempt to scare or intimidate other chameleons, snakes, or birds when they feel threatened.
Well now you know more about chameleons than you ever wanted to know! Information from Wikipedia
I am entering my card in the
Creative Fingers Challenge - Buttons