It's Tuesday so we have a new challenge for you at Through the Craft Room Door (TTCRD)!
Click
HERE
to go to the challenge!!
Before you go, I would love to tell you that THE PAPER SHELTER is our challenge sponsor this week. Here is a link to the store so you can check out the incredible images there!!
T

HE PAPER SHELTER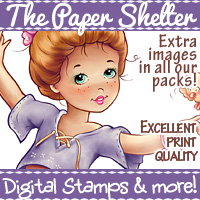 Here is my Design Team card using Vanity from the Paper Shelter
Supply List for 6 x 6 inch card
Image is Vanity and printed on X-Press It cardstock
Image colored with Copic Markers: G00, G000, G24, G14, G40, G43, YG 21, YG 25, YG05, B0000, B95, B66, B79, BG01, FBG2, Y08, Y28, YG01, E84, E81, E30, E41, N0, N2, RV000, V0000, YR18, YR04, RV69, R11, R20, R39, R32 Wink of Stella on the deep blue areas
Papers, lace, gems, and the flower are all leftovers from other projects.
And, did you know............
TTCRD also has a bimonthly online magazine that is just for paper crafters and I think you would love it. Subscription price is $18 a year and that includes six issues a year and lots of free digi images. Click
HERE
to subscribe to the magazine.
Challenges I am entering:
All Sorts Challenge - Any occasion but birthday
Sister Act Card Challenge - Anything Goes
Crafty Hazelnuts Patterned Paper - use patterned paper
Scribble and Scrap Crafts - Anything Goes
Corrosive Challenges -Things with Wings (peacock)
Thanks so much for stopping by my blog!
Darcy