Our sponsor all month is
Ching-Chou Kuik Digital Stamps
The December prize will be 3 digis from her store. This company is one of my favorite ones and I was so thrilled to be given some images to be creative with.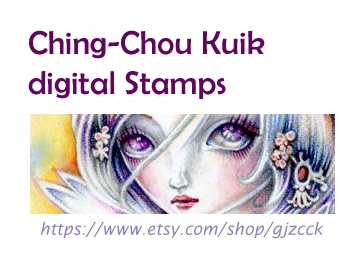 Here is a link to Ching-Chou Kuik's facebook page
Here is our sketch for this week!
The image I used was Garden Daisy Fairy. Thank you to Ching-Chou for supplying such lovely images to our Design Team.
Here is my card!
I have to tell you a little about the background around my image. I saw a video using some water and a brush with Tim Holtz Distress Inks. Well, forgetting how vivid the Distress Ink colors are, I started touching the color to the paper and gee was it ever dark! I started blotting some color off with a dry paper towel but it dried so fast that none of the color really lifted. Adding more water only caused the top layer of the paper to start lifting, so I was thinking I would throw this in the trash, but then I just kept filling in the color around the image using a Copic marker to get really close to the image. Then I got out my "fixer upper" which is the Copic Opaque paint and started daubing, smudging and filling in with some lines. This paint is really thick and is great for smudging and dries quickly. It really saved me from throwing it out! This isn't the first time this paint has saved my card.